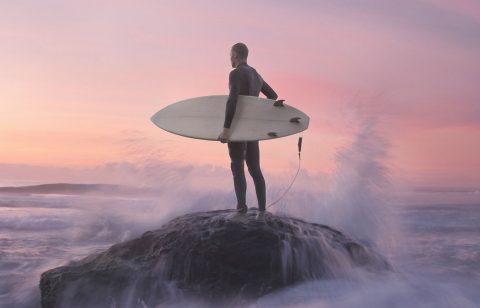 While on stage at New Lab in Brooklyn last month, I felt a sense of awe. The room was at capacity with sharp-minded business people from around the world. Outside in the hall, a sleek, futuristic-looking, entirely electric race car sat in the lobby of a building built before the first Ford Model T had left the assembly line. I sat flanked by four executives, all fiercely committed to the same cause: sustainability.
This was the Envision Racing Innovation Summit, held the day before Formula E drivers sped around the track at the New York City E-Prix. The energy at the summit was – fittingly – electric.
Envision Racing, which I'm proud to call a Genpact partner, hosted the Innovation Summit for two primary reasons: first, to get people excited about the impending race; and second, to bring together some of the sharpest thinkers in business and sustainability to talk about the private sector's role in the race against climate change.
I learned three key lessons from the day's discussions:
1. Technology + industry knowledge = quick, meaningful progress
If we can learn anything from Envision Racing and Formula E, it's that you need to understand the landscape and use technology as a strategic pillar if you want to accelerate progress.
Since its inception just five years ago, the ABB FIA Formula E Championship has been a cradle of innovation. Advances in battery technology have meant that the Gen 2 cars have double the range, charge faster, and can propel themselves from 0 to 100 kph in 2.8 seconds.
For its part, Envision Racing finished the season in third place and, with three victories, it is the only team to have had both drivers win races. The team's engineers use predictive insights to make faster data-driven judgement calls that improve performance. How? By embracing and developing artificial intelligence (AI) in the form of the Lap Estimate Optimizer – developed in partnership with Genpact – which calculates how many laps there will be in a race to help both team and driver make more instinctive, accurate decisions, and manage energy.
This is a great example of how you can combine industry knowledge with digital technologies to turn data into valuable insights.
These rapid developments also prove that meaningful progress doesn't need to take decades if you have a deep understanding of the space and implement the right technologies. For those of us business leaders who are contemplating how to tackle a goal as monumental as sustainability, it's inspiring to see the impact technology can make when it's used as both the enabler and the result of strategic innovation.
2. Sustainability is good for business
Encouragingly, many of my fellow panelists agreed that the race to become a more sustainable company is also a tremendous business opportunity. Consumers are giving their money to businesses with sustainable products or practices. Companies like Genpact now have an opportunity to help organizations find the technologies that will deliver more sustainable outcomes.

Indeed, artificial intelligence is the most effective way to connect financial and sustainability goals. As AI analyzes massive amounts of data and pulls out insights much faster than people do, it fights climate change without sacrificing the bottom line.
For example, we worked with one company that implemented our predictive maintenance solutions, which provided the data needed to reduce that company's carbon footprint as well as unnecessary costs that arose from reactive maintenance.
Sustainability doesn't have to be a trade-off between doing the right thing and making money. It's a trade-off between being proactive and being reactive. Investing in sustainability can save money and help create a backdrop where businesses can thrive in the long term.
3. Purpose unleashes innovation
My discussions with fellow panelists and other summit attendees reaffirmed my conviction that companies need a defined sense of purpose. Why? Because purpose matters to your stakeholders, especially your employees, who are increasingly mission-driven. Without a clear purpose you will lose your innovation-driving talent.

At Genpact, our 90,000 employees are our intellectual capital and our most valuable resource. Since the beginning of the digital era, I've seen our people unleash a tidal wave of innovation, much of which generated by their deep sense of belonging and purpose-driven work. Of course, sustainability is now at the heart of many companies' goals, and it was clear at the Innovation Summit that talent is heavily influenced – and invigorated – by a company's commitment to beating climate change.
Leaving New Lab, with the Manhattan skyline in view and the racetrack just minutes away, I considered the summit's symbolic importance and the weekend's races. In many ways – as one of my fellow panelists pointed out – conversations and events like these serve as a catwalk of sorts, showcasing the high-buzz, high-energy potential of collaboration between business leaders and sustainability experts.
For Envision Racing, the technological advances in mobility will soon move from the racetrack to the sales lot. Similarly, in business, the ideas and experiences that the leaders on that stage shared will spread rapidly across industries, bringing together companies, governments, and advocacy groups with the collective mission of winning the race against climate change.
Blog