Report recognizes Genpact's unique approach to digital marketing and sales, and its strengths in data, analytics, and insights
Genpact has been named a market leader in the inaugural HFS Digital Marketing and Sales Services Horizon report. The report assesses service providers' ability to create differentiated customer and employee experience strategies so their clients can deliver profitable growth. Horizon 3 market leaders are able to:
Drive business outcomes, cost reduction, and productivity improvements
Improve customer and employee experience
Unearth new sources of value to drive growth and manage risks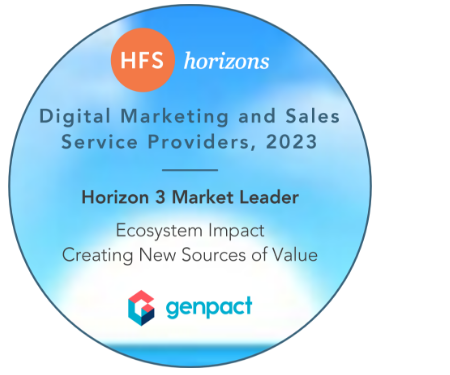 "Genpact's data-driven operators' lens for ecosystem innovation comes from the unique combination of its deep knowledge of sales and commercial operations across multiple industries—its experience, expertise, and continued investments in data analytics and technology," said Melissa O'Brien, Executive Research Leader, HFS Research. "Genpact helps companies transform their digital marketing and sales strategies with technology and data, combined with deep insights on experience, in an effort to make smart, agile decisions that can both improve customer service and drive competitive growth."
Genpact works with sales, marketing, and commercial leaders across multiple industries to accelerate customer success through better experiences. Our differentiators include:
A holistic approach to digital marketing and sales services that combines Rightpoint, a wholly-owned subsidiary that specializes in customer and employee experience, Genpact's sales and commercial service line, and connected commerce services
A unique SMB (small and medium business) academy that enables clients to grow new revenue streams from SMBs

Strong data and analytics capabilities. For example, Genpact's Growth Assist solution uncovers customers' propensity to buy. It enables insights-based selling using multiple data signals, delivering a bird's eye view of customer data to drive commercial transformation
Report