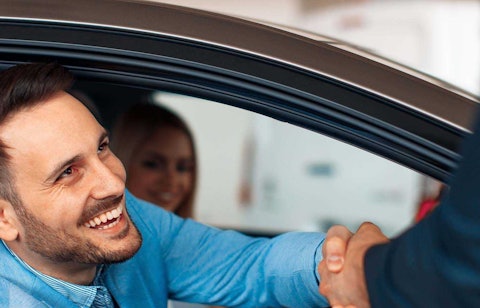 When most people think of a "used car salesman," they imagine a sleazy, pushy guy who uses every trick in the book to make big money. The industry hasn't exactly helped this stereotype, with the used car market known for its price manipulation and opacity, high levels of consumer distrust, and poor buying experiences. Historically, the auto industry has also ignored used cars as the poorer cousin to the prestigious new auto market.
But the pandemic has changed all that. Semiconductor chip shortages have drastically slowed new car production, leaving second-hand vehicles to carry the weight of the auto market. With fewer new cars, U.S. used car prices skyrocketed by more than 24% over the past year, according to the Labor Department.
This situation provides a unique opportunity for finance captives to maximize profitability and growth while extending their manufacturer's brands. How? By creating a separate vertical market for second-hand vehicles.
Even if used car prices don't stay high — and they won't — investing in a separate vertical will still be worthwhile. Why? Because it will give captives the impetus and know-how to affect positive change across their entire business ecosystem — including aiding their transformation for a future where vehicles are autonomous, connected, electric, and shared.
New ways of doing old business
For years, the auto market has been on the verge of a shift. Industry pundits have been waiting for automakers and lenders to deliver much-hyped, mobility-as-a-service solutions — where consumers get more flexibility and choice through data-driven pricing and integrated products with services. But no one has made the change.
Building a vertical market for the second-hand business offers the perfect opportunity for automakers and lenders to find new ways of doing old business. So, where to start?
This play is about using technology to change the entire experience of buying a used car. Over recent months, many banks have achieved similar change after years of treating digital as an add-on and fintechs as foes. Auto lenders can avoid these digital wilderness years by quickly embracing technology to avoid stasis and leapfrog into a nimble future. Here are four areas captives can act on, now.
1. Redesign the used car buying experience, end to end
Typically, a consumer would search online for a vehicle and find which auction houses had the model they wanted. But captives must change the entire purchasing journey to benefit the customer — from model selection to personalization of finance terms to delivery of the vehicle. No more trekking from dealership to dealership, tied to one financier, to compare models. Customers will be able to view second-hand vehicles online, choose financing terms to fit their circumstances, complete paperwork swiftly, and have a car delivered straight to their driveway. Some businesses, such as Carvana, are already doing this. And now is the time for captives to get in the game.
2. Drive pricing transparency and flexible financing using data
Thanks to digitization, data will drive pricing, providing transparency where variable margins used to be the norm. Technology will also enable buyers to create their own, completely personalized financing terms. As a result, lenders will be competing on a level playing field. So, they'll need to find new ways to differentiate. This will mean focusing on experience and making the purchasing process for second-hand cars frictionless.
3. Streamline operations with analytics
Captives must streamline their middle and back-office processes. Otherwise, they'll never be able to provide a good front-end buying experience. When vehicles are returned, they go back on the lender's books until resale. This return-to-remarketing leg of the used car journey is highly operational, manual, opaque, and contentious. It involves third parties (such as repossession agencies and auction houses), regulations, damage repair, customer payments for deficiencies and excess mileage, and recertification of the car for resale. And while the used car sits waiting, it depreciates in value.
But with the right technology, such as artificial intelligence (AI) and machine learning (ML), inventory management becomes seamless. Ahead of vehicle return, captives can use AI to request vehicle photos, assess images for damage, pre-order parts, and proactively schedule dealer-level repairs, making the process predictive, not reactive. Once ready, ML-enabled pricing models can then assess and post the best price for vehicle, market, and location.
4. Use new tech to offer new products and market in new ways
Technology-led streamlining should also allow lenders to offer new products, just as it enabled banks and fintechs to come together to deliver new creations in the world of digital financial services. For example, nimble inventory management enables new subscription models that allow buyers to break free from the one-car-one-owner model of the past. This means a single car can have many users, with customers selecting model, mileage, and number of trips per month, along with integrated services like fuel, insurance, and parking.
Auto lenders should also use AI and ML to market used cars in new ways — specifically, to segment their customer data creatively. Today, lenders typically view a buyer as a single customer with a 40-year driving lifespan made up of an average of ten, four-year leases. However, using their own, internal data — and external third-party data — the buyer becomes an entire household, which lenders can segment to predict demand. For example, a two-parent household with a new minivan and three children in early childhood will eventually become a five-driver household. As parents typically cap their spending limit at $10,000 for their teen's first vehicle, most parents stick to used ones. Segmenting the data intelligently can deliver the right vehicle model and tie-ins at the right time and the right price.
From chaos to control
Once auto lenders have fine-tuned this model for the used car market, the technology and approach can be replicated for their new car business. Customer used to be loyal to vehicle brand and annual premium rate. But with excellent experience and a wide range of choice, loyalty will now shift to the lender (all the more reason for automakers and captives to integrate, as we suggested in November).

Driver preferences are changing, and customer choice and servitization are key to future success in this industry. Only tech-enabled, streamlined businesses with frictionless buying experiences can deliver this. While chaos reigns in the used car market and the chip shortage stunts new car production, there's a window of opportunity to make the change. Take it.
Article