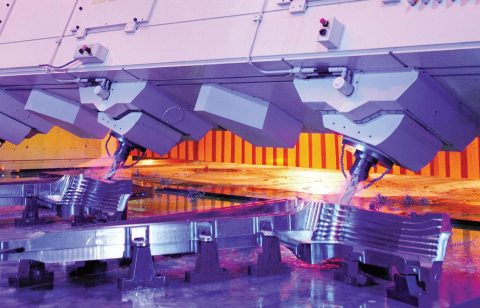 Patrick Cogny, our global manufacturing business leader, joined a panel of industry experts to discuss what the future holds for manufacturers. One thing is clear – they must move from developing products to engineering experiences.
This is because customers today expect more from their products and the companies that make them, forcing manufacturers to look for ways to deliver consistent, highly personalized, memorable experiences. This need for hyper-personalization will drive the servitization of manufacturing, where manufacturers add value to their products by offering supplementary services.
John Deere offers a prime example. Over the past two decades, the manufacturer has pivoted from mass production to becoming an experience-led company. It has developed services that give customers advice on how to best use their products according to the weather – a template that other manufacturers would do well to follow.
However, in Genpact's Manufacturing in the Age of Instinct report – which introduces three macrotrends shaping the future of the industry – we see that some manufacturers still struggle to move beyond the pilot stages of the digital transformation that's critical to understanding and meeting customer needs. The panel identified five ways manufacturers can prepare effectively for the future.
1. Build adaptive supply chains
The COVID-19 pandemic triggered a fight for survival. Now, manufacturers are living the new normal and realizing things will not go back to how they were. The manufacturers that have thrived during the pandemic are the ones that were able to act with agility and transform their supply chains to manage extreme peaks and troughs in demand.
One panelist who leads digital transformation for a multinational brewer focuses on how the actions taken today will prepare the company for tomorrow. "We're strengthening our existing capabilities and putting future initiatives on hold. We have a roadmap for how to get to the future, which includes enhancing our supply chain, but we know there's foundational work to be done." Other panelists say that they are reprioritizing their digital roadmaps to deliver virtual operations to cope with the dramatic shift from offline to online services.
All panelists agree that manufacturers need smart, connected, and responsive supply chains for increased business resilience. But it's not as simple as "digitize or die." Instead of trying to transform every aspect of their supply chain, manufacturers should see where their biggest challenges and opportunities lie and focus their transformation efforts there.

2. Challenge the status quo
The world is changing, and businesses need to change too. A panelist from an independent manufacturing research and technology organization suggests, "There are still some traditionalists within senior leadership that are holding transformation initiatives back. Embracing ideas from fresh eyes and emerging talent is one way to encourage innovation." In times of uncertainty, it's the visionaries who stand to gain most ground.
A willingness to innovate and experiment is the first step toward digital transformation, but manufacturers must avoid boiling the ocean and agree on business priorities. Because technology is an enabler, not the solution, a well-defined strategy is crucial.
As Cogny says, "Being forced to rethink your strategy should be an opportunity, not a challenge. On the path to digital transformation, you will face some roadblocks, so you need to embrace new partnerships and get closer to your customers to identify the priorities." To overcome blind spots and biases, leaders need to listen, not talk.
3. Develop data-driven decision-making
Ideally, data should be at the heart of every organizational decision. "We're making the most of the data we already have to understand what's happening today and to predict what's going to happen in the future," says the brewer's transformation leader. "This has helped us spot issues we've struggled with consistently, like unexpected supply chain disruption, so we know where to invest our transformation efforts."
Data used for decisioning must be clean, consistent, and reliable. However, some organizations have inherited legacy and fragmented data through siloed operations and mergers and acquisitions.
Some of the most advanced manufacturers are also gaining rich customer insights through internet of things (IoT)-enabled products. By tapping into product lifecycle data, manufacturers can gain insights into how, when, and why customers use their products. This is something more established manufacturers that have a longstanding and loyal customer base can achieve more easily than their smaller, emerging competitors.
4. Reskill, upskill, and embrace fresh talent
To build adaptive supply chains, challenge the status quo, and develop data-driven decisioning, employees must be empowered to turn these visions into a reality. They need the technical skills to own, understand, and drive change with technology. "At Genpact, we created a learning platform to upskill our employees to thrive in the digital world, " says Cogny. "We've since made this platform accessible to all professionals outside of Genpact to help them develop the skills they need for a digital future."
Another option is to bring in fresh talent to plug skill gaps. Some manufacturers are attracting graduates by repositioning themselves as innovative, responsible, and sustainable businesses. This is essential for the next generation of talent, who closely examine company culture before taking on a role.
5. Focus on the customer experience
The final way manufacturers can prepare for the future is by ensuring that every digital transformation is grounded in benefits for the end customer. "Leading manufacturers have shifted their focus from making products to delivering services," says Cogny. "This is a step in the right direction, but this must be connected to exceptional customer experiences that secure loyalty and protect business growth."
To deliver memorable experiences for every customer, manufacturers must connect all aspects of their ecosystems in pursuit of delivering seamless experiences. And to connect diverse, often geographically dispersed ecosystems they must reexamine and strengthen their digital capabilities.
It is clear that the manufacturers that have made digital transformation a priority are the ones that will adapt, rise, and thrive in a future marked by constant and rapid change.
Point of view