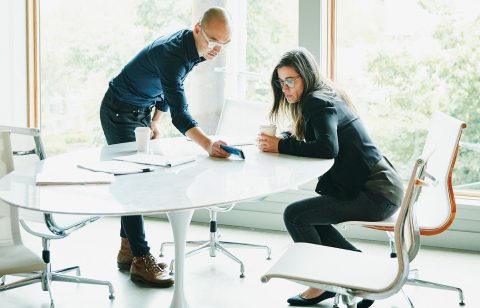 "Longevity in business is about being able to reinvent yourself or invent the future." – Satya Nadella, CEO of Microsoft
Digital transformation remains a top C-level priority, but few companies are equipped to deliver transformation on their own. This is where a new breed of advisors can add significant value.
A guide for your transformation journey
According to the World Economic Forum, more than 70% of CEOs believe they need a radical digitally-led transformation of their business model. Unfortunately, only a small percentage of CEOs are putting this belief into practice. But why?
It's because CEOs and other business leaders need a guide for their transformation journey. Given the market volatility and high stakes involved, this need has never been greater. However, it's hard to find a trusted advisor who deeply understands your industry and what makes your business unique.
Driven by this need for more versatile advisors, the distinctions between three traditional business services segments – consulting firms, systems integrators, and outsourcing firms – are blurring:
Traditional strategy consulting firms have invested to extend beyond their core capabilities to create new digital business units

Traditional IT services system integrators – which build their traditional business models on achieving scale – have grappled with emerging client expectations to not only run IT systems and processes but to change and improve them too

Traditional outsourcing firms have invested in digital technologies to develop advisory services. However, some continue to cling to their traditional labor arbitrage-based business models
The need for advisors who are also doers
Leading businesses are increasingly seeking more agile, visionary, and hands-on advisors – rather than a team of brainy consultants, commodity IT services players or big brands.
A need for deep industry, technology, and delivery expertise is the primary reason businesses are seeking digital transformation advisors
Enterprise leaders need collaborative guidance, not predefined or instructive methodologies from inflexible consultants. Increasingly, knowing how to apply innovative data engineering, analytics, and AI technologies to achieve an outcome – with industry nuances in mind – is an essential characteristic of leading advisors.
The best advisors know how to use innovative technologies to create tailored solutions that achieve tangible business results
Advisors must also consider organizational constraints related to people, process, and technology. Surprisingly, the technology aspect of digital transformation is for some often the easiest. As one industry analyst put it, "Sociology is harder than technology."
Therefore, in addition to culture, industry knowledge, and process understanding, the advisor must have the agility to adapt to your company's unique and changing environment. Typical consulting firms, systems integrators, and outsourcing firms struggle to achieve this combination of skills. This is where a new breed of trusted advisors can take center stage.

Finding your trusted advisor
Industry analysts can provide a shortlist of advisors who have successfully transformed businesses within your industry. As Nadella said, reinvention is essential, so look for an advisor with the following traits:
Ability to adapt their legacy business model. The best and boldest advisors are willing to challenge, disrupt, and transform their own businesses as required to successfully transform others. In its Willful Disruption: Genpact Transforms Digitally to Help Digital Transformation report, Gartner identified Genpact as one such advisor.
Ability to do rather than just advise. Though strategy and advisory services are important, they're just a small piece of the transformation puzzle. Look for advisors with a full stack of capabilities to not only reimagine your business and improve experiences but also have the digital technology expertise to design tailored solutions that get the job done.
Willingness to own outcomes. The success of your advisor should tie into the success of your business. Seek an advisor with deep process knowledge directly connected to business outcomes built on innovative value share models. And, if you really want to know what your peers think of an advisor, Net Promoter Scores are always a good place to start.
Blog