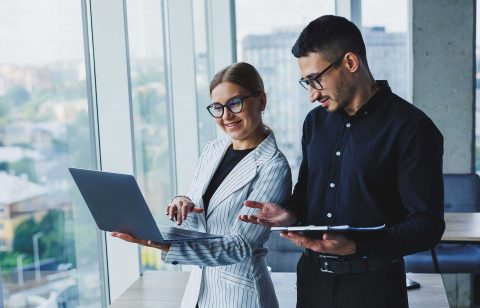 To compete and win, insurers need to move fast and delight customers. Operational agility is key. But often, the inadequacy of core systems can't support it. Meanwhile, the transformation required to achieve operational agility can take many years, especially when an insurer tries to go it alone.
So, insurers are increasingly turning to digital platform-oriented business process services (BPS) providers, such as Genpact, and leveraging their suite of advanced, digital technologies to reduce turnaround times and improve accuracy and product quality.
Notably, Genpact has earned the rank of Leader in Everest Group's inaugural PEAK Matrix for Digital Platform and Augmentation Suite (DPAS) in Insurance BPS Provider 2022.
The global analyst firm recognizes our vision and strategy to serve as a one-stop shop for digital transformation initiatives, with offerings based on our proprietary artificial intelligence platform, Cora. These offerings provide a single orchestration frame over any of the existing policy administration systems. Everest Group's report highlights the following offerings, in particular:
And it emphasizes the depth of our DPAS solutions, consisting of robotic process automation, cognitive automation, and advanced analytics.
The leading research firm also acknowledges our continued investments in:
Data and analytics, with our recent acquisition of Enquero
Customer experience, with our acquisition of Hoodoo Digital to expand our Rightpoint business
Genpact charted its DPAS journey through a blend of in-house solutions, industry expertise, and partnered capabilities. It has developed an integrated insurance ecosystem, which caters to the growing need for better user experience and faster adoption through modern processes. Genpact has made significant investments in its proprietary CORA platform supported by process-centric digital wrappers. Recent acquisitions such as Enquero and Something Digital have been noteworthy enablers to drive improved business outcomes through innovation and next gen technologies. Stronger client traction on digital solutions is a testament to market acceptance of a company's solution and capabilities. Moreover, Genpact's capability across automation, AI, and analytics through solutions such as extraction-as-a-service (EaaS), which are integrated with underwriting and claims managers have reinforced Genpact's position as a Leader in Everest Group's Digital Platform and Augmentation Suite (DPAS) in Insurance BPS PEAK Matrix® Assessment 2022.
The report looks at 15 insurance BPS providers in all and evaluates their relative positioning based on service focus, key intellectual property solutions, domain investments, and case studies.

Report