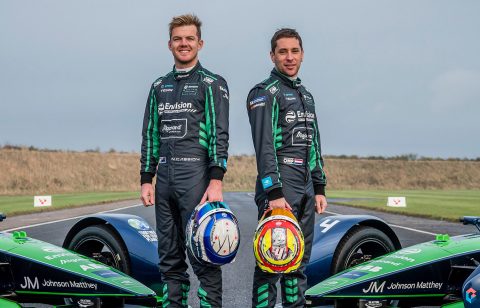 Dr. Maria Singson, chief science officer at Genpact, tells us how AI gives Envision Racing an edge over the competition
She has a PhD in cognitive science and ran an analytics startup for five years before joining Genpact. As chief science officer, Dr. Singson is at the heart of making Genpact and our clients prediction-savvy organizations.
When asked what brought her to our company, she says it was "the promise of having sound infrastructure and being part of amazing innovations, while keeping my entrepreneurial spirit."
Genpact and Envision Racing are in the second year of a strategic partnership to drive long-term performance advantages for the team. Maria leads a team of data scientists from across the globe. They use cutting-edge AI technologies to analyze vast volumes of racing data and estimate the number of laps possible in each race. The team has built the Lap Estimate Optimizer (LEO) to help Envision Racing make accurate predictions and informed decisions about energy management at every stage of the race.
Their work also helps the Envision Racing drivers and their support teams to improve their strategies based on analytical insights from their time spent preparing for each city track in the racing simulator. Sam Bird and Robin Frijns can now uncover coaching opportunities and learn from each other's strengths on the track.
Looking ahead to the rest of the season, Maria's team may just give Envision Racing that extra edge to deliver more winning performances in future races at the FIA Formula E Championship, the world's first all-electric, single-seater, international racing series.
Dream in digital. Dare in reality.
This trailblazing partnership combines Genpact's technical expertise with the racing team's engineering and motorsport experience to create magic on the track. Maria and her crew of data scientists analyze reams of data that come in before, during, and after a race and develop predictive algorithms to help the drivers make rapid, strategic decisions while competing.
As she says, knowing that drivers use the team's insights as part of their race strategy is a thrilling prospect.
Conjuring magic with data
When she started working with the racing team, Maria knew that each race would present new challenges. But she also knew that the drivers' instinct and preparation would get a boost from the lightning-fast decisions that her team could help them make. And that the accuracy of the team's insights could mean the difference between winning and losing.
The goal every day is to sift out patterns from the data that the racing team can build into its strategy. She talks about the magical moment "when you're in front of the data, and there's nothing between you and the moment of discovery."
Building real-world solutions
There are clear parallels between the challenges facing racing teams and the solutions to many real-world business problems. "They're both about the optimization of resources," she says. "The only difference is that businesses get the luxury of having more than just 45 minutes to apply the insights!"
For Maria, the coolest part of her job comes from being able to directly help people and companies that wouldn't be able to make the most of the data they have at their fingertips otherwise. Creating usable insights from complex data has led people and their businesses at the highest levels across industries (now including motorsport) to invite Maria to advise them.
The winning formula
Given the influx of data and technology in analytics today, Maria acknowledges that it is a world that's all about survival, and believes that the team's ability to support each other gives an edge. "If you see something that's not being done, just pick it up," she advises.
She's also a big believer in being curious and questioning. Her most significant lesson while working on this revolutionary partnership so far is to "be comfortable knowing that there are things you still do not know, and all you can do is to keep challenging yourself and learning a little bit more every day."
Additional lessons from her work with Envision Racing include the need to be resilient and relevant. As she says, being unafraid to fail and staying firm on regular upskilling is essential in a world that will require everyone to adapt and predict successfully.

As season six pauses to keep fans and teams safe from the Coronavirus, Maria and the team are working hard to generate more of their data wizardry and invaluable predictions for the Envision Racing team. Their modest goal is to repeat the excitement of Sam's win in the Diriyah E-Prix.
Learn more about our work with Envision Racing with stories Living the dream, The yin and yang of being a data scientist, and A troubleshooter on the track.

Blog