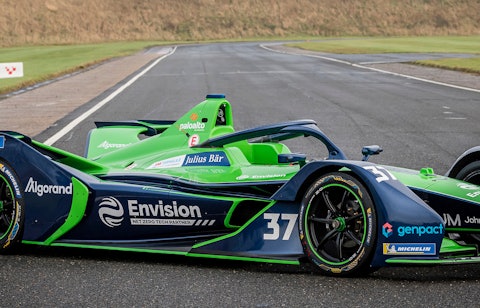 Experience specialist Annicka Campbell-Dollaghan tells us how data-driven insights are bringing Envision Racing closer to its fans and improving their sporting experience

Annicka Campbell-Dollaghan is passionate about how technology is shaping human behavior, experience, and culture. With a background in anthropology and marketing, Annicka leads the research practice at Rightpoint, a Genpact company, developing new and interesting ways to highlight human insights that accelerate our clients' digital transformation journey.
When asked what excites her about her role, she says, "I love working with data scientists and engineers to pair data insights with human insights." Through Genpact's partnership with Formula E team Envision Racing, Annicka has put her passion for new data approaches to work. And getting to watch Formula E races as part of her job is a dream.
Driving up engagement
Envision Racing, a founding team in the world's first fully electric, single-seater racing series, is focused on winning races and pursuing its purpose: the race against climate change. Our collaboration is driving long-term performance advantages on and off the track.
For Envision Racing, its fans are one of the most crucial drivers of its performance and purpose. That's where Annicka and her team step in, unearthing insights on how to boost loyalty and expand Envision Racing's fan base.
With a team of researchers united by a deep curiosity about the economic and cultural forces that shape our world, Annicka led a cultural affinity analysis to enhance Envision Racing's fan-engagement strategies. The team developed a data-driven view of the key personas – such as the urban-experience fan or eco-conscious fan – that represent the greatest opportunity for Envision Racing to grow its fan base, identifying what unites and differentiates them.
Fanning the cultural flame
Connecting with fans on a cultural level is a powerful strategy for many brands. And because Envision Racing operates in the entertainment and sports space, the shared interests, passions, and values that make up a fan's identity often drive brand preference. Annicka and her team enable that connection between brand and fan through algorithms that uncover the cultural affinities of Formula E fans to give Envision Racing an opportunity to connect with them on a deeper level.
For Annicka, it's rewarding to create valuable insights that increase the team's audience reach and grow its fan base.
The future track
Looking ahead, Annicka senses that evolving strategies to meet the demands of consumers, or in this case fans, is a mindset that companies across industries are adopting. She believes the needs, preferences, and motivations of consumers are not static, and it's crucial to continually evaluate those shifts as new data becomes available.
In her words, "The mantra for analyzing data to uncover insights is to keep an open mind, be agile, and be willing to let go of previously held assumptions." This is an approach she believes is more relevant today than ever before. "When working with data, what you think you will learn is not always what you end up learning – our ability to adjust and pivot to new information is the key to success."
Be the change you want to see
Annicka is proud to be part of a team that is so passionate about minimizing the impact of climate change. She has become a staunch advocate for the importance of embracing clean energy at both the societal and individual levels. In fact, her family has decided that their next car will be an electric vehicle. She says, "I've never been so excited to search for a new car."

According to Annicka, Envision Racing is well placed to seize fresh opportunities identified through data-driven audience insights. These insights, embedded in innovative marketing campaigns and powered by today's technology, have the potential to significantly grow Envision Racing's fan base, while also elevating the fan experience to a whole new level.
Blog