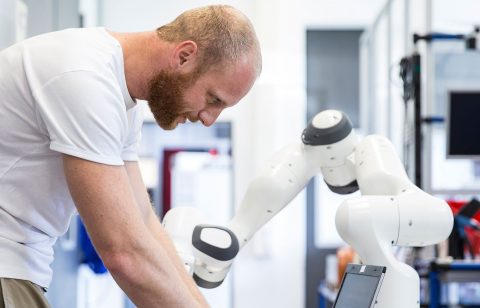 The pursuit of productivity is one of the main reasons to use artificial intelligence (AI) in the enterprise. And for good reason. AI empowers people to work at unprecedented speed and scale. But the true value of AI – what makes it so unique and powerful – lies elsewhere.

Look at the insurance industry, for example. One auto insurer uses AI to review images of damaged cars and helps employees determine whether a car goes to the salvage yard or the repair shop. This is augmented intelligence – wherein AI handles the data processing to guide humans toward the best next step. AI can also search the internet to find the best price for replacement parts, for savings of up to 15–20% per claim.
Here, AI is helping the insurer to make faster, more informed decisions and spend money more wisely. If – like the insurer – you want to explore the power of AI beyond productivity, there are three main use cases to consider.
1. Elimination
Ask yourself – can AI simplify or eliminate parts of a process? One of our retail clients was processing 120 million invoices per year. When reconciling purchase orders and receipts, 6 million of its invoices wouldn't automatically match. It would take a team of around 500 people to review each document and file claims back to suppliers. This was no easy task, especially across 6,000 locations that use multiple receipts for a single order.
We helped the retailer train AI bots to read the invoices. Today, rather than waste efforts chasing every claim, AI helps to identify and eliminate the claims that are unlikely to be honored.
For the insurer, AI's value comes from its ability to reduce manual processes and allow people – its most valued asset – to focus on more strategic tasks. Compliance and cash flow is also improved by streamlining the invoicing process.
2. Prediction
Can AI make your processes more predictive? Let's look at insurance again. One insurer received thousands of quote requests from brokers each day. Its agents needed to respond within 24 hours or risk losing their business. The insurer wanted to predict which requests were most likely to convert so that agents could focus on the hottest opportunities.
The company used AI to develop an algorithm that reviews requests – and the granular details of each – to predict and flag the request most likely to convert to a purchase. Since deploying AI, the insurer has increased its request-to-purchase ratio by 75%.
In this scenario, AI predictions deliver insights that help brokers spend their time wisely, meaning that they are more likely to hit their sales targets. Of course, when employees hit their financial targets, the business hits its targets too.
3. Volume
AI can also help if you're one of many businesses grappling with huge amounts of data. For example, a leading consumer packaged goods (CPG) company had ongoing contracts with retailers for trade promotions. After a promotion ended, retailers invoiced savings back to the CPG company. The transaction volume was extremely high because the company had thousands of items for sale across hundreds of retailers. Manually, it was impossible to address all the invoices. As a result, the company was leaving around $8.5 million in invoices unaccounted for.
Now, AI bots help the CPG company manage invoices at scale – after all, when you train AI to deal with a handful of transactions, you can increase the volume relatively easily. As a result, this prevents revenue leakage and improves cash flow.
In a similar case, a contact center at a major bank was struggling with its volume of customer calls and could manually classify only 25% into the right handling queue. But thanks to an AI algorithm based on speech analytics, the bank can now reliably direct 100% of its calls. This is because AI has the power to manage volume in a way that's simply not humanly possible.
Ultimately, the value of AI is limitless when it's applied in the right way. And let's not forget the positive impact AI can have on your overall employee and customer experience – thanks to AI, they'll become advocates that help your business thrive.
Blog