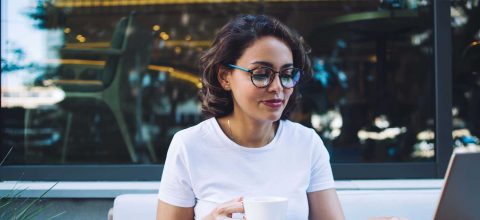 Working From Anywhere
At Genpact, we believe in the power of people, and that curious innovative people drive us forward. We also believe in the importance of creating an environment that fosters curiosity and innovation and we know that this can be different for everyone. That's why we offer multiple working models, one of which is Working From Anywhere. It gives our colleagues the flexibility and freedom to create a better way of working for themselves.
What if you could spend more time doing what truly matters to you? Pursuing your passion, learning new things, enjoying a hobby, or spending time with the people you love – not commuting to work allows you to do just that.

Would you be happier if you saw nature every time you looked out your window? If you had a furry friend to pet between meetings? Maybe you'd like to be surrounded by books and plants while you work? Working From Anywhere you decide the look and feel of your space – be that your home, your favorite coffee shop, an Airbnb with a view, or a hammock outside.*

Start your morning reading in your coziest outfit, putting on your running shoes and going outside, or wearing your favorite jeans and taking your kids to school – with no commute, your own space to work from, and no dress code you get to choose how you start your day.
*Please note: you need to be a European citizen with a work permit to work in Europe to be considered for our European work-from-anywhere roles.

Who is Genpact?
We're a global professional services company with over 115,000 employees in 30 countries. We design and run thousands of processes for hundreds of global companies. We apply Data-Tech-AI to design, build and transform their businesses, and then run them to deliver results at scale.
For example:
Do you know how supermarkets decide how many ice creams to stock to make sure they don't run out, and they don't expire either? Our supply chain experts create end-to-end transparency to understand the best match between customer demand and available supply.

Before an airplane flies, it goes through rigorous safety checks. Did you know that combining artificial intelligence and human intelligence means that flying is safer than ever before? We help make that happen.

Also, a jet engine can be made up of as many as 25000 parts – we make sure all those parts are accounted for, invoiced, and paid so the companies making them can focus on what they do best and build the engines.

Have you ever wondered who decides which video should be removed from the internet and which video can stay with a warning? Our content moderators are working every day to keep the digital streets safe.
And we do all this with a strong purpose: to relentlessly pursue a world that works better for people. This means:
We help some of the biggest companies do what they do, better

We create a positive impact in the communities we operate in

We keep our employees at the heart of everything we do
Learn more about what we've been up to
Genpact in Iași, Romania
We are partnering with local artists, KapsCrew, and the "Iași Tram Club NGO" and the Iași Public Transport Company, in Iași, Romania, to make people's commutes more beautiful and encourage them to join us on a journey to a better way of working. Soon, you will see our tram going through the city every day! You will also be able to spot our hologram booth in the Palace Mall – stop by and hear our colleagues about what we have to offer.
Why are we doing all of that? We are expanding our presence in Romania with a strong focus on Iași and its surrounding area. Stay tuned for more to come!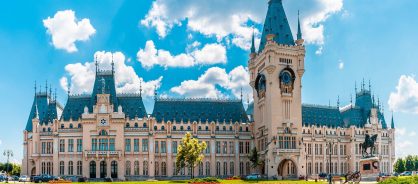 Join the #WorkFromAnywhere talent community in Europe