In every organization, leaders want to protect their most important asset – their people. But when the business needs to change, how do you balance what your company needs against what your people need?
Strategic change management connects various resources across people, processes, data, and technology. This means every employee understands the need for change and their roles within it. The result? Greater employee retention, engagement, and performance before, during, and after the change occurs.
Sadly, getting there is not an easy journey. Let's look at change management in more detail.
Challenge
Every company faces difficult choices as they navigate four major challenges:
Recession and economic downturn: How can you do more with less while keeping people engaged, especially as employees worry about the impact on their job security and workload?
Rising and prolonged inflation: While employers tighten their belts and cut back on resources, employees worry about the cost of living.
Tight labor markets: Talent acquisition and retention are hot topics for employers as employees have more choices in an increasingly competitive market.
Shifting work environments: Employers navigate hybrid working policies and worry about diluting company culture while employees look to protect their work-life balance.
The differing perspectives between employer and employee are escalating tensions. To overcome potential mistrust, misunderstanding, and misalignment – or even active resistance to business-critical transformation – organizations need an effective change management strategy.
Solution
We partner with companies to establish greater trust between employees and leadership teams. Then, they are better prepared to navigate the choppy waters of change while keeping everyone on board.
Our change practitioners help companies to:
Remove risk from transformational programs

Align leadership teams around a common set of goals and objectives

Minimize company and employee resistance

Improve employee engagement

Drive sustainable progress
We focus on two areas – building capability by helping companies set up and operate in-house change management teams and building capacity by scaling existing (or creating) a change management function for specific transformation programs.
Whichever approach you need, our unique proprietary tools, frameworks, and accelerators smooth the transformation journey.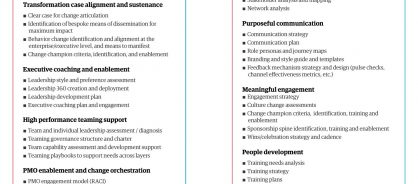 Throughout your journey, we align transformation objectives while improving organizational communication. We also monitor employee buy-in and help employers and employees overcome obstacles to change.
The nuts and bolts of change management
Here are some of the tools and strategies we can offer your organization:
Change Lens: a discovery exercise that helps employers understand their organization's readiness for change. It turns change unknowns into insights that inform the roadmap for the journey ahead
Change Vue: a continuous monitoring tool that guides change management progress through quantitative and qualitative experience tracking
Change Beta Clipper: a workshop experience that minimizes risk by ensuring goals align across the organization for a smoother journey
Enterprise trust, learning, and collaboration (TLC): using an enablement roadmap, we take an approach that aligns company culture and behaviors with transformation goals to increase TLC across the organization
Organization and stakeholder analysis: explore the influence and impact of the change program for individuals and find ways to streamline their experience
Case for change: defines the 'why' of the change and helps employees understand its benefits
Communication strategy and plan: build an impactful communications strategy to get the right messages to the right people at the right time
Change agent network: we'll create a network of engaged employees to report on what is and isn't working and uncover any issues before they pose a risk to the program
New ways of working: mitigate the fear of change by providing foresight of future working practices and the advantages they'll bring for employees
Impact
Our tried and tested approach to change management maximizes employee trust, collaboration, and learning. With an eye on the end goal, we smooth any obstacles to improve productivity, retention, and engagement.
Companies using our change management solutions improved employee satisfaction by up to 80% and retention by 95% during times of change.
Whether you're looking to enhance your change management capabilities in-house or outsource, our team – who have experience across every industry – will empower you to chart your course through any change confidently.
We are agents of change, applying our deep expertise and collaborative innovation to help the world's most innovative companies make business work better.
Case study: Managing employee experience during a talent transfer
Challenge: A healthcare services company needed to transfer 190+ employees into a new financial planning and analysis hub. During this huge move, sustained performance and seamless delivery were essential.
Solution: We worked with the company to create a change management playbook focusing on the employee experience. By integrating change management with HR and corporate communications, we built engagement strategies that put the needs of people first.
Impact: This increased visibility and transparency led to a positive employee experience during the talent transfer process. The industry standards for a move of this kind are 90% internal job acceptance and an employee satisfaction (eSAT) score of 65%. However, with our support, the company achieved 99% internal job acceptance and an eSAT score of 80%.
Case study: Safeguarding leadership retention for a global insurer
Challenge: A global insurance company needed to streamline processes and introduce digitization without comprising leadership satisfaction or employee engagement.
Solution: We created a behavioral change plan outlining the new ways of working, learning, and tools available to business leaders so they can chart their digital transformation journey. For employees, we focused on alignment, remediation, and collaboration at every stage.
Impact: Our work kept leaders satisfied and able to retain, onboard, and support hundreds of employees across five business functions.
Why Genpact?
Our teams have successfully managed change for Fortune 500 companies across the globe. At Genpact, we have a unique blend of people, technology, and industry expertise to manage change effectively. Whether you need to increase capacity or create new capabilities, our holistic approach means you and your people can enjoy the ride knowing that better business outcomes await at the destination.
Visit our continuous transformation framework page to know more about data-driven change management
Solution overview