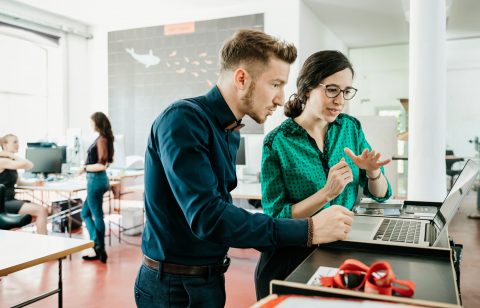 Deliver the next generation of high tech consulting services through digital transformation.
The high tech industry has always been used to fast-paced change – but the past decade has seen unprecedented disruption as well as volatility.
How customers consume electronic goods is changing. They are moving away from product purchase and fixed-term licensing to as-a-service and subscription-based consumption. Established brands need to pivot quickly to fulfill this demand.
In addition, companies are experiencing significant disruption in once-robust supply chains. This is leading to rising costs and increased manufacturing complexity. High tech companies must address a number of challenges. They need to:
Develop future growth strategies and pivot the business from products to services. But first, they need to realign operational and business models to support this shift.
Drive more customer demand directly and through their own channels. But they are currently hampered by outdated data silos and partner/channel management approaches.
Better monitor and predict supply and demand against capacity to reduce stranded revenue or contracts. But supply chain instability and a lack of end-to-end visibility are making this a challenge.
Reduce operational costs and inefficiencies. But misaligned data and lack of joined-up operations are impeding cost reduction.
Better understand how the changing landscape and volatility impacts key business functions. But current siloed and disjointed change management approaches are making this difficult.
Genpact: Enabling high tech companies to navigate change and drive business resilience
Here at Genpact, we have worked alongside the world's leading high tech brands for many years, helping them reimagine and transform their operations holistically.
We combine our deep industry experience and advanced digital capabilities to enable leading high tech organizations to build resilient business models by optimizing their supply chain and finance operations.
What's more, with our expertise in customer experience, technology, and finance, we help enterprises create a change management strategy to support new commercial models.
Enable and empower sales to succeed in new scenarios
By providing sales teams with the knowledge, tools, and customer insights they need, we help companies to streamline processes that are necessary to succeed in the changing consumer landscape.
We augment the sales function and enable sales workforces with access to real-time customer insights, effective resourcing, and automated processes.
Helping sales teams shift to digital channel sales is what we do. From fulfillment and customer service to support services, sales enablement, and sales resourcing services, we provide the support to accelerate digitalization.
Customer services teams feel empowered when they can offer superior solutions that enhance and add value to the customer journey at key points of interaction and engagement.
We help companies to drive value from data and predictive and contextual analytics to fuel revenue growth by helping high tech enterprises to fuse their data silos and augment their intelligence through access to third-party data. We also improve the utilization of all data sources to drive advanced analytics that provide valuable real-time insights and a 360-degree view of the customer.
Drive sustainable growth and increase customer lifetime value
Genpact helps high tech companies deploy new services-led business constructs by implementing fit-for-purpose operational models, increasing the lifetime value of each customer.
We help companies to benefit from end-to-end operational transformation, designed to serve and enable sustainable growth.
We support the shift to as-a-service and subscription-based business models with a pragmatic, sustainable operational transformation. By connecting intelligent operations (iOps) we enable transformation across the organization.
Additionally, we increase revenue transparency, optimize revenue management, and prepare finance operations for the adoption of new commercial models.
By helping companies to forecast cash flow, rethink credit strategies, and improve collections and deductions management, we help companies gain visibility into the cash conversion cycle.
Predict and adapt supply and demand
We empower electrical goods companies to manage the unpredictable nature of modern supply chains and improve delivery and fulfillment.
We enable our clients to fuse together data silos across engineering, R&D, sourcing, and procurement functions in order to extract more accurate insights on demand, enabling better business planning.
We guide companies to develop a master data management center of excellence (CoE) to feed into their forecasting and financial planning.
We allow companies to secure future business and deliver emerging and to-be-defined new technologies with smart production and capacity expansion by combining our leadership in supply-chain optimization as well as our semiconductor industry expertise.
Why Genpact?
Genpact is a leader in helping organizations through their bespoke digital transformation so they can deliver key business outcomes and values that drive business resilience, growth and opportunity.
We pioneered and co-developed the first semiconductor-specific, hyperconnected planning systems with industry leaders.
70 delivery centers across 25 countries for sales and commercial

"Strong Performer" in Forrester Wave for Customer Analytics Services Q3, 2021

~6,500 dedicated FTEs, 30+ markets, and 20 years of experience in creating and managing sales centers of excellence

Ranked as a supply chain leader in the 2022 Everest Group PEAK Matrix

Gartner: "Visionary" in Data and Analytics Service Providers Magic Quadrant, Worldwide, 2021

Everest Group advanced analytics and insights leader in its PEAK Matrix for 2020, 2021, and 2022

Managing customer service and support solutions with over 750 million customer interactions a year across 50 languages and 28 global call center locations

Rightpoint has achieved a No. 5 "Winners Circle" rating in the inaugural HFS Top 10: Employee Experience Services, 2022 report

Rightpoint named 2022 Microsoft US Partner of the Year for employee experience

270+ clients, 20+ of the world's largest consumer electronic companies, and 21 of the top 22 global semiconductor companies in the world

24 years' experience improving supply chain performance for global clients

Key solution architects for over 500 supply chain planning system deployments

Consulting principals include former supply chain leaders from 11 Fortune 500 Companies with global operations

Deep implementation experience with Kinaxis, Llamasoft, e2open, Oracle, SAP, and others

Practice team with over 1,500+ years of supply chain practitioner experience

Experience defining and implementing supply chain solutions for 9 of the top 13 global semiconductor companies
Our high tech solutions include:
Transformation services
Rightpoint
Enquero
Cora
Supply chain management and automation
Source to pay
Inventory optimization
Cora OrderAssist: spares order management
Control tower implementation
Parts management as a service
Barkawi Consultancy (a Genpact company)
iOps
Forecasting & connected planning as a service
Constraint-based predictive analytics
Solution overview