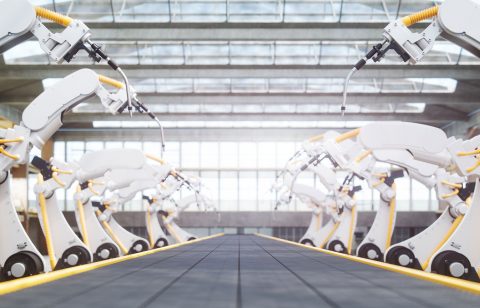 Genpact recently hosted a thought-provoking round-table discussion on the topic of intelligent automation. Participants talked about what it is and how to think about it, far beyond the robotic process automation (RPA) solutions typically used today. Genpact's chief digital officer Sanjay Srivastava moderated as three panelists with rich and diverse views tackled the topic.
Hans Keil shared his experience driving and orchestrating intelligent automation as PerkinElmer's CIO. Elena Christopher, who leads intelligent automation research at analyst firm HFS Research, shared some key data from her recent research on the state of intelligent automation across a broad set of enterprises. Finally, I shared my career-long experience as a practitioner rolling out several hundred intelligent automation implementations at F500 companies.
What viewers will learn
The panel addressed the top questions clients grapple with globally when it comes to intelligent automation. They discussed how to innovate at scale, as well as how to integrate and preserve all the legacy investments while doing so: That's the power of integrated automation in a post-RPA era.
Integration has to happen at the solution level (RPA, AI, and analytics), as well as at the organizational level (people, process, and technology), the group concluded. If you don't have integration in place, adding technology isn't going to take you much further.
The group also took on the big question "What is intelligent automation?" According to the panelists, it's the ability to simulate human-like thought patterns in a way RPA alone cannot. This is where deep learning and machine learning come into play by adding that cognition layer. But the challenge for enterprises is to distinguish what's real and what's hype about intelligent automation.
The key takeaway: RPA may currently be the most popular application of automation because it's quick, non-disruptive and cost effective. But, ultimately, to take automation to a more intelligent level, enterprises need solutions capable of "managing complexity." You might not start there with automation in your efforts, but it's where you must end up eventually.
In implementing intelligent automation at a large scale, you need to think comprehensively. For example, as we move from rules-based programming to outcome-based programming, we need to look beyond RPA for an orchestrated technology set to support the larger end-to-end automation goal. That means considering how to leverage service orchestration and SaaS, as well as large partners with the scale you need.
The panel also found that we need to bring in machine learning and natural language processing where appropriate to solve end-to-end business problems. Optimizing your current model with automation isn't the endgame. Rather, well-implemented intelligent automation should facilitate a larger business transformation. To learn more about the realities of intelligent automation versus the hype, view the round table here.
Blog