Overview
Cora APFlow is one of our market-leading accounts payable solutions. It makes invoice processing touchless with dynamic workflows, automation, artificial intelligence, and machine learning. Whatever industry you're in, let us show you a better way to do business.
Cora APFlow: Automate and transform accounts payable intelligently
Electronic invoice receipt and capture
Manage invoices from across the globe in a variety of formats. They'll go straight into your enterprise resource planning system to improve cycle time from receipt to payments. Cora APFlow can also auto-post invoices to allow straight-through processing from day one. The accounts payable platform also features customizable workflows, so it's easier to manage exceptions, check approvals, and prioritize invoices for more timely processing and payment.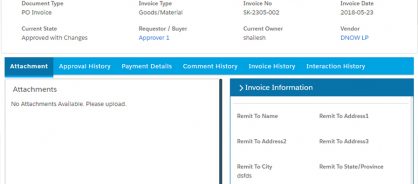 Accounts payable analytics
Keep a close eye on key performance indicators for accounts payable. Cora APFlow helps you configure reports and dashboards for greater visibility and deeper insights into accounts payable analytics. With customized reports, you can give your business stakeholders and suppliers full visibility of every invoice. Plus, the connected supplier portal allows suppliers to check their invoice status in real time to free up your accounts payable helpdesk.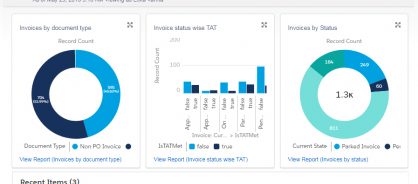 Featured solutions
Accounts payable need to work anytime from anywhere, which is why we designed Cora APFlow with the mobile workforce in mind. Also, through our partner network, our accounts payable platform helps with supply chain financing so you can pay suppliers quickly and receive early payment discounts.
e-Invoicing
Accept invoices in multiple formats from global e-invoicing networks for greater compliance and faster payments. With this automation, you can develop stronger relationships with your suppliers.
Touchless invoice optimizer
Use machine learning to predict delays in invoice processing and find the best way to clear exceptions. Built-in escalation reminders speed up approvals and help you resolve exceptions effectively.
Requester prediction
Don't let invoices get held up by missing requesters. With machine learning, Cora APFlow identifies likely requesters based on past invoice data to complete missing requester details.

Supplier management
Cora APFlow can automate supplier setup and maintenance. And because suppliers have real-time access to their invoice status and payment data, they don't have to contact the accounts payable helpdesk.

Early payment discounts
Sometimes, the faster you pay the less you pay. Don't miss out – Cora APFlow helps businesses get early payment discounts using its unique and customizable early payment discount program.

Fraud detection and prevention
Prevent and reduce expense fraud with Cora APFlow. The solution will help you identify possible fraud by flagging duplicate invoices, abnormal invoice values, and other suspicious signs.

Global support and scale
Cora APFlow supports multiple languages and currencies, with built-in disaster recovery. Better still, it will integrate, scale, and update without compromising your existing infrastructure.

100 %
accounts payable automation
60 %
productivity improvement
60 %
fewer supplier inquiry calls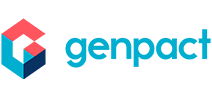 "The digital technology of Cora APFlow, combined with Tradeshift's sophisticated B2B network, creates a connected ecosystem that provides faster access to data to drive more strategic P2P decisions."
Building superior experiences rooted in digital
See how Cora APFlow enabled touchless invoice processing, increased e-invoicing adoption, improved transparency and enhanced supplier relations.