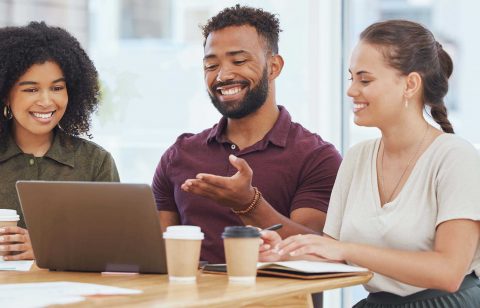 Attaining success in the experience economy demands that organizations prioritize superior employee and customer experiences. In fact, more than 70% of large-scale digital transformation initiatives fail to take off precisely because companies do not pay enough attention to or empathize with their stakeholders' requirements and experiences. For digital transformation to be successful, all enterprise functions must operate in a connected manner. Experience-led business transformation is a unique approach that pushes for action while allowing stakeholders to maintain their freedom of choice.
Three trends are driving the growing importance of stakeholder experience:
Workers expect more from their jobs and are willing to leave if their experience of work processes and ways of working are poor – or if benefits like hybrid working are not available to them.

As a result of improvements in cloud computing, more organizations are looking to leverage servitization – combining products and services into a single package – to increase value and better experiences for all stakeholders. Almost everything in business service operations today can be delivered as a service. For example, CFOs today are looking beyond simply protecting the finances of their company to become innovation and growth champions – improving experiences, reducing low-value work, and making the right decisions in close collaboration with other business leaders.

As the business world shifts towards increasingly virtual work environments where experience drives engagement, organizations are adopting a human-centric approach with deeper understanding of stakeholder behaviors that help in developing effective physical and virtual touchpoints.
Challenge
Making the intangible tangible
The main challenge for business leaders is to turn the abstract information they have on user experience into objective, quantified data – otherwise, any change they make will be guesswork at best. This is a tough ask. Without the right data – in the right format – enterprise business leaders struggle to understand how to:
Turn casual feedback into direct action

Identify weak touchpoints in the user journey – internally and externally

Forecast the impact of any intervention they may make

Drive efficiency and effectiveness without damaging the team's experience

Design a plan for transformation around the stakeholder experience of service delivery
Business operations teams are packed with experience and knowledge, and they are likely to be best placed to tell the enterprise business leader where things are working – and where they are not. So how can the enterprise business leader, such as the CFO, harness that intelligence to drive innovation and transformation?
Solution
Measuring the moments that matter
Genpact's proprietary framework, UXnxt, turns intangible, abstract information on stakeholder experiences into measurable categories across stakeholder touchpoints that indicate areas for rapid transformation. This algorithm-driven framework is designed to:
Look beyond traditional performance measurement by prioritizing behavioral trends over financial metrics to provide an experience quotient for the entire organization, its teams, and its personas to enable change.

Develop an all-inclusive measurement that analyzes physical and virtual touchpoints to drive better experiences across all stakeholder journeys for a 360-degree view of performance.

Deliver competitive advantage as likability has become a key differentiator in the market. Improving real-life experiences for your stakeholders is one of the easiest ways to be liked.

Enable business leaders like CFOs to align operational execution to the board's vision for change.

Improve user experience to meet your organizational purpose of looking after all stakeholders.
The art and science behind UXnxt
Employee and customer stakeholders are onboarded to voice their unbiased feedback throughout the process. The employee personas are operational, handling on-ground challenges, while the customer personas represent the end-consumers of the process journey, including both internal and external stakeholders. The framework uses a series of stages to assess user experience and recommend transformation measures. It presents a 360-degree view by measuring what matters most at each experience touchpoint for dimensions such as trust and transparency, timely responses with minimal follow-ups, smooth handoffs across up- and downstream processes, and better collaboration and communication.
Empathize: The assessment starts with analyzing sentiments at each persona level across customer journeys. It is executed through direct feedback from several evaluators designed for each persona and journey. UXnxt offers prepopulated metadata of customizable assessment for each customer journey, profile, and persona, covering every aspect of the user experience. The framework then identifies sentiments as frustrating, apathetic, neutral, satisfactory, or inspiring. It also flags outliers for root cause analysis to facilitate more focused conversations. The framework keeps up with technological advancement and incorporates audio-visual techniques of sentiment analysis.
Synthesize: The sentiments and the feedback collected are quantified algorithmically, pushing up or down the experience quotient across multiple dimensions for monitoring and improvement. The results from the assessment are automatically processed and presented rapidly as a digestible visualization. The dashboard view (figure 1) allows leaders to analyze the ecosystem-wide sentiments.
It compares employee and customer experiences, looks at various persona sentiments, and analyzes employee and customer experiences to identify the deficit between what is delivered and what is expected as a business outcome.

It also compares customer journeys across business functions on four dimensions and helps in prioritizing initiatives with the maximum impact. For example, in closing books, credibility and responsiveness are key to a successful financial close, while in procurement, engagement with suppliers is critical.

The noise dashboard presents a deeper understanding of the underlying causes of all good and bad experiences revealed through the assessment. It is powered by a constant feedback loop that uses conversational AI and machine learning to highlight pitfalls. It also gives visibility to noise-generating agents like data, digital technology, and adherence to policies and procedures at every step of a journey. This helps in conducting targeted discussions for a holistic impact.

It also provides a stakeholder journey blueprint that documents all interactions and touchpoints, which allows enterprises to look at what's happening "behind" and what's needed to create an optimal experience.
Figure 1: Gap analysis: Deviation between employee experience (EX) and customer experience (CX) by dimensions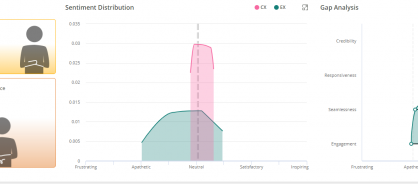 Customize: The now synthesized data is processed through a powerful recommendation engine that highlights key areas for transformation (figure 2) based on the information users have provided. Like the experience assessment, these options are preconstructed and drawn from millions of experience touchpoints to produce the best and most relevant recommendations across business structures, process design, data, and technology that impact the experience.
Each recommendation is targeted at an experience touchpoint to improve some or all dimensions of the user experience. For some outliers, we recommend a detailed diagnostic led by an experience specialist from Rightpoint, a Genpact company and a global customer and employee experience transformation leader. Such an outlier can be when there is a need to overhaul the reporting dashboard or fix user-interface issues in systems.
Prioritize: Once user experience has been assessed and visualized – and transformation areas have been recommended – the final stage of the framework prioritizes actions for the business leaders to take along with the impact of the chosen roadmap. Instead of simply having a list of areas to change, they now know where to go first and exactly what to do (figure 2). This approach allows for a proactive and iterative process, where insights gained from measuring these critical touchpoints can inform strategic decision-making and drive meaningful changes.
Figure 2: Persona-based experience journey map
Impact
Enabling strategic, experience-led transformation for all stakeholders
Leading organizations harness enterprise experience to create a moat, brand value, and loyalty. With UXnxt, business leaders like CFOs have access to the data and insights they need to make strategic decisions, keeping people at the center of everything. The biggest advantage is achieved through organizational alignment across cross-disciplinary departments such as data, design, and technology that enable cultural change, driving long-term sustainable benefits.
Solution overview