In business, we strive to predict what the future holds so we can adjust our business models, processes, and teams accordingly. Yet few could have foreseen or planned for the impact of Coronavirus.
In the short time since its discovery, COVID-19 has impacted our lives, communities, and work. These are just a few of the disruptions we're helping our clients address:
Figure 1: The major impacts of COVID-19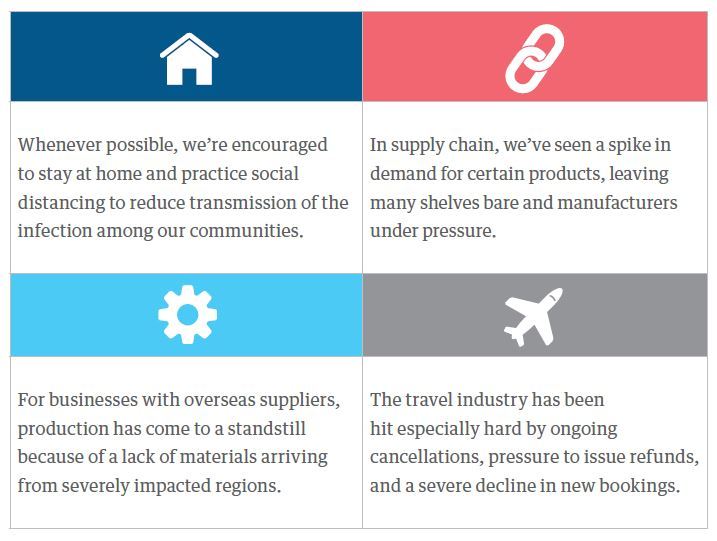 While various forms of disruption can be found almost everywhere, there are common themes. Businesses will need to explore new ways of working, refine their supply chains, adapt to unprecedented demand, and – all the while – protect cash flow as the situation develops.
Genpact is here to help. From years of experience working with organizations to navigate business disruption, we've outlined five ways, powered by digital technology, to manage the impact of COVID-19 and build resilience for the future.
Virtual collaboration is the new norm
COVID-19 is forcing many enterprises to redefine what a normal workday looks like. Thankfully, there are things you can do to ensure that everyone remains as productive as possible.
1. Digital ways of working
For employees to stay home, you must provide tools – such as Zoom or Microsoft Teams – so they can do their jobs remotely and effectively and connect with other team members.

At Genpact, we can help organizations at all levels of digital maturity adapt their operations.
Figure 2: The three levels of digital collaboration maturity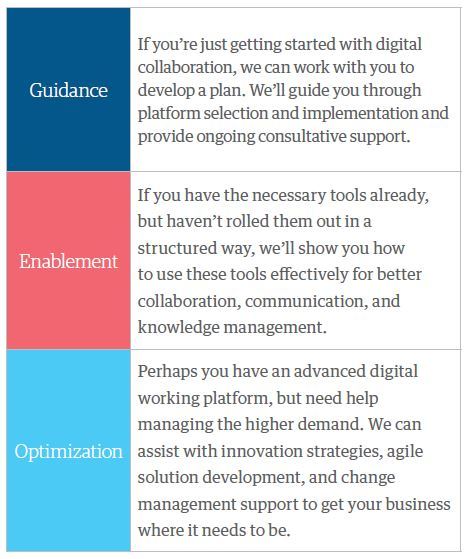 Digital working is essential. Not only can it support productivity and minimize feelings of isolation, but it will also help us all reduce the spread of COVID-19.
2. Business continuity
You want to continue running your business as normally as possible, especially if some or all employees are working from home. Even prior to COVID-19, Genpact crafted an ISO 22301-certified business continuity system to help clients protect their work locations and critical infrastructure during periods of uncertainty.
To tighten up your business continuity plan, we can explore the nature and importance of specific business processes. We'll develop a protection plan featuring solutions that will help your business keep the lights on.
Within our protection plans, we include:
A leadership team and command center for governance

IT infrastructure redundancy to prevent downtime

Critical processes and data backup

Critical vendor lists to maintain continuity of service

Client and media communication guidelines
Building resilience across operations
While it's important to keeps teams working with virtual collaboration tools, the businesses that thrive will be those that make time to rethink their broader operations too.
3. Cash optimization
Since COVID-19 emerged and spread so quickly, its impact was largely unexpected. Though experts continue to speculate on how long the virus and its effects will last – including talk of a possible recession – businesses are looking for ways to protect their cash.
We can help by improving cash flow management and working capital efficiency across your receivables, payables, and inventory. We can improve your order-to-cash, procure-to-pay, and inventory management processes and combine our industry and functional expertise with machine learning models. This will give you accurate cash flow forecasts and boost longer-term resilience.
4. Order management
While businesses are struggling, customers are struggling too. You might be dealing with an increase in customer calls and interactions, especially if customers are trying to understand the impacts of COVID-19 on their orders or returns.
Here's how we can help you maintain a positive customer experience during this difficult time:
Figure 3: Supporting customers during periods of disruption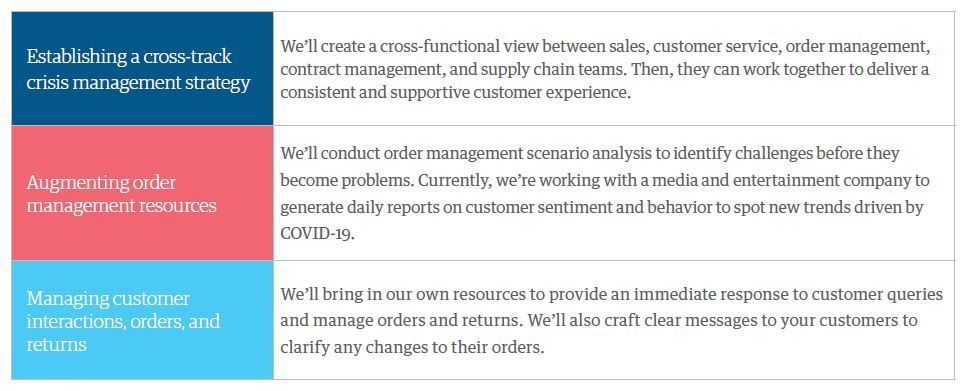 During this time, it's also important that every business helps where help is needed most. As Genpact gets to know your customer base, we'll show you how to prioritize orders from the key industries – such as healthcare – and regions most affected by COVID-19.
5. Supply chain management
Supply chain is one of the areas most affected by COVID-19. It will be critical to stabilize the supply chain for business continuity and to support global communities.
Genpact can help through rapid modeling of supply chain risk and simulations of various inventory scenarios – adjusting for higher than normal demand. From these simulations, we can prioritize risk scenarios and identify at-risk suppliers or critical materials to enable the continuity of supply. For a medical device company, we're running disruption simulation models to make immediate inventory and critical supply chain decisions to prepare for the weeks and months ahead.
We can also augment your workforce so that employees can prioritize their time effectively. We'll set up a crisis management team to continuously monitor your supply chain, conduct ongoing risk analysis, and collaborate with your teams to act on supply issues. Plus, crisis management analysts can deliver the necessary changes in demand forecasts and inventory allocation decisions.
To increase your overall resilience, we can also assist with long-term supply chain transformation initiatives. This could include detailed risk modeling, recovery planning, and supply chain network redesign, as well as visibility and governance strategies.
As the world grapples with COVID-19, we can help you with both short-term recovery and longer-term contingency planning. These are not new ideas, but tried and tested approaches that have worked for companies across industries. Working together, we can weather this storm and come out stronger than ever.
Learn more about Genpact can help and visit our digital transformation page.
For more advice that's tailored to your business, and to get your resilience questions answered, visit genpact.com/contact-us.
Solution overview