Overview
Today's digital world is dominated by content. From social media to online forums, all these sites depend heavily on user-generated content. Brands want their customers to communicate with them and each other online freely to be able to gauge their sentiments towards their products, services, and overall reputation. This flow requires moderation to ensure that it complies with the policies of the website and to ensure its accuracy.

Genpact has spent the past few years developing a deep understanding of changing user behavior and new abuse trends on platforms. We have built domain depth in the areas of user-generated content, fact-checking and news moderation, and spam and abuse prevention. This along with Lean and Six Sigma DNA helps us develop content moderation tools and reengineer clients' processes to drive efficiency gains and protect users by removing toxic content with 98%+ accuracy.
Our solutions
We created a dedicated practice group for content moderation services – a group of experts whose role is to build innovative solutions by leveraging the intersection of deep domain expertise, digital, and analytics to solve real-world problems for platforms that publish user-generated content.
Platform ad compliance
Ad integrity and brand safety: By filtering out misleading ads, scams, clickbait, and deliberately false information, you will only host ads that follow your platform's policies.
Providing a safe user experience
Data labeling: Our services help AI solutions learn faster and become more accurate as they identify and segregate content. Our insights frameworks help develop products with safe user experiences.
Ensuring employee wellbeing and resilience
Our experts and leading solutions deliver safe working environments and support employee wellbeing, preventing the effects of long-term exposure to stressful content during content moderation.
Safe gaming experiences
Genpact's gaming centers of excellence provide tailored solutions for game developers, publishers, console manufacturers, and cloud and streaming service providers, delivering safe gaming experiences for users.
Why Genpact
We help you take a holistic approach to mitigate risks and ensure user authenticity to ensure integrity, accuracy, and safety across your entire digital presence.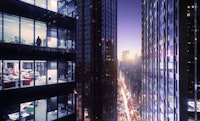 Leading in trust and safety
Everest Group names Genpact a leader in its Trust and Safety – Content Moderation Services PEAK Matrix, 2021.
600 +
specialized workflows
12 +
sites across the world