Good things are on the horizon
In its inaugural 2023 Horizons report for cards and payments service providers, HFS recognizes Genpact as a Horizon 2 Enterprise Innovator.
The global research, insight, and analyst firm acknowledges our domain and deep payments process expertise and our ability to deliver transformations for cards and payments companies, including:
Payment facilitators and acquirers
Payment processors
Payment gateways
Issuing banks
Card networks
Sponsoring banks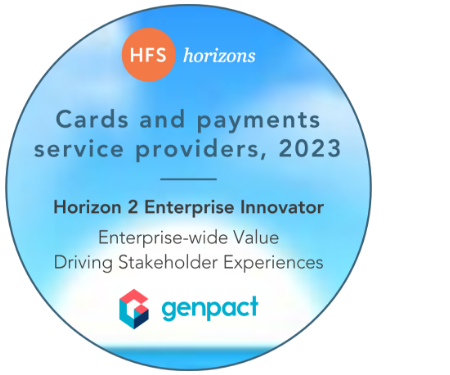 HFS specifically acknowledges our unique ability to operationalize, modernize, and transform these companies using our data analytics, artificial intelligence, automation, and experience design capabilities and solutions.
According to HFS, customers particularly appreciate our "methodical approach, deep knowledge, commitment, and leadership." And the report emphasizes our investment in experience design and anti-financial crime, underscored by our Rightpoint and riskCanvas™ acquisitions.
HFS also acknowledges Genpact's robust ecosystem of technology collaboration partners, which allows us to deliver custom and innovative partner-integrated solutions, and our consultative "customer oriented, practical, and agnostic" approach to problem-solving.
"The top imperatives for savvy payment providers are to keep up with the fast innovation cycles; focus on creating positive customer experiences; balance cost, control, and compliance; and actively seek end-to-end partners to help them succeed in these roles.
In our recent study, HFS Horizons: Cards and payments service providers, 2023, HFS designated Genpact as a Horizon 2 enterprise innovator due to the firm's ability to help global payment leaders create intelligent payment operations that result in lower costs, enhanced self-serve capabilities, and resilient risk and compliance structures.
Genpact brings the efficacy of data, technology, and AI to optimize the end-to-end payment transaction processes. Genpact is one of few firms that understand the complexities of the payments process and help clients navigate the unchartered waters of operational resilience as a business-as-usual capability." says Divya Iyer, Practice Leader, BFSI
Visit our banking and capital markets page
See how we enable financial services firms to win in the digital economy, generate growth and become agile.
Report