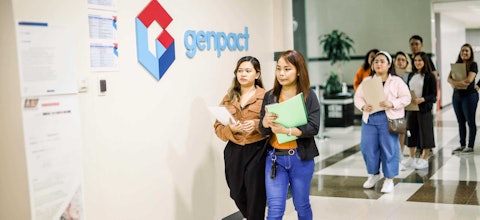 Making business work
Genpact (NYSE: G) is a global professional services firm delivering the outcomes that transform our clients' businesses and shape their future. We're guided by our real-world experience redesigning and running thousands of processes for hundreds of global companies. Our clients – including many in the Global Fortune 500 – partner with us for our unique ability to combine deep industry and functional expertise, leading talent, and proven methodologies to drive collaborative innovation that turns insights into action and delivers outcomes at scale. We create lasting competitive advantages for our clients and their customers, running digitally enabled operations and applying our Data-Tech-AI services to design, build, and transform their businesses. And we do it all with purpose. From New York to New Delhi and more than 30 countries in between, our 115,000+ team is passionate in its relentless pursuit of a world that works better for people. Get to know us at Genpact.com and on LinkedIn, Twitter, YouTube, and Facebook.
Genpact began in 1997 as a business unit within General Electric. Then, in January 2005, we became an independent company, bringing our process expertise and unique DNA in Lean management to more companies. We became a publicly traded company in 2007. Since December 31, 2005, we have expanded from 19,000+ employees and annual revenues of $491.90 million to 115,000+ employees and annual revenues of $4.37 billion as of December 31, 2022.