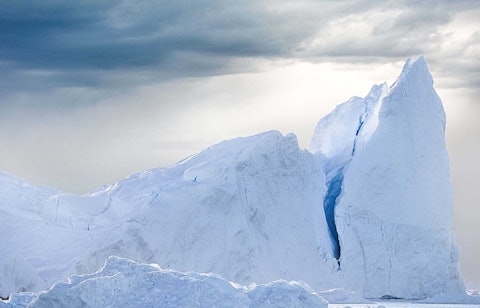 When it gets to the final races of any championship, the pressure, anticipation, and excitement heat up. And for our partner, Envision Racing – currently at the top of the Formula E standings – the temperature has been rising all season. So, we decided to turn one of its cars to ice.
We placed a life-size ice replica of the team's racing car – carved out of seven tons of frozen rainwater – right next to Tower Bridge and under a surprisingly hot London sun. Though we wanted to draw attention to the London E-Prix that weekend, we had a bigger message to share. A message that is central to both Envision Racing and Genpact's purpose: the race against climate change.
Formula E is the world's first all-electric, single-seater racing championship and living proof that electric mobility holds a viable and enticing future for us all. But we know that rejecting fossil-fuel-powered cars won't solve the climate crisis alone.
Melting Point
Advanced analytics and digital technologies play a critical role in tackling climate change head-on. Just as they help businesses – including Envision Racing – improve performance and customer or fan experiences, they also uncover ways to slash waste and build more sustainable practices.
Our ice car told a chilling version of that story. As the sculpture melted, we challenged the public to predict how much ice we would lose in 24 hours.
Our data scientists were hard at work too. They created the Melt Estimate Generator – or MEG – using AI-powered algorithms similar to the ones we built to help the team win races. We trained MEG in the intricacies of melting ice and fed it data on the local temperature, wind speed, and footfall so it could forecast how much of the car would disappear. It settled on 68.86%.
Our human predictors on Twitter sent us their considered guesses too. And for every prediction, we donated to the Arctic Ice Project, a fascinating organization that's working to restore ice in the North Pole and shore up the Earth's natural heat shield. I'm thrilled that we raised $10,000 to support the project's pioneering work.
Twenty-four hours after Melting Point began, it ended, and we measured the final melt. The car was 66.01% smaller. MEG came close! And our nearest Twitter guess came in at 63.5%, which has earned the winner grandstand tickets to a Formula E race of their choice next season.
See how the day unfolded in our short recap:

Get in the driver's seat
Everyone has a role to play in preventing climate change. The way your business uses digital technologies and analytics can make a profound difference to your environmental sustainability goals and the planet.
Supply chain analytics, for example, can cut emissions from logistics routes and accurately forecast demand to streamline inventory. Enterprise-wide insights will help make the business case for change. And intelligent automation can eliminate wasteful processes and streamline carbon reporting – you can see how we're supporting Envision Racing with its own emissions reports to the Carbon Trust.
I'd love to hear how technology is shaping your business' sustainability journey.
What's next?
Melting Point was one of our first in-person events since the pandemic began. Both the Genpact and Envision Racing teams loved meeting people face to face and doing something tangible – if slippery – to raise awareness of the race against climate change. And judging by the response from the individuals we met in London and online, we know we're not alone in this fight.

It's only by working together and combining technology with our collective experience and ingenuity that we can change the conversation on the issues that matter. That is how we create a world that works better for people.
Blog