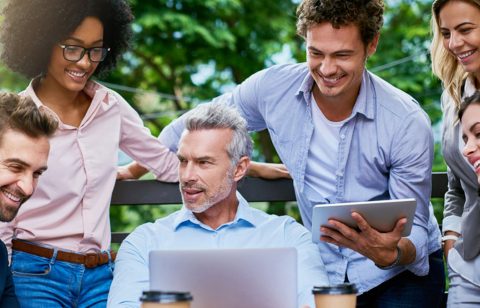 Everywhere you look, you'll see advertising for emerging technologies like artificial intelligence (AI), machine learning, predictive analytics, virtual reality, and robotic process automation (RPA), to name a few. They are the keys to successful digital transformation and positive business outcomes. Or are they? Many business leaders are realizing that technology is only an enabler. To truly succeed, your focus should be on people – especially your employees.
In fact, organizations that invest in employee experience are four times more likely to be profitable than those that don't, according to The Employee Experience Advantage by Jacob Morgan. And it makes sense. Employees deliver for your customers, and those customers drive business growth.
If you get the human part right, the technology can (almost) look after itself.
Organizations that invest in employee experience will also be able to retain their top people, which is critical when the quest for exceptional talent is increasingly time-consuming and expensive.
To sharpen the focus on the employee experience, consider these six tips:
Communicate the digital strategy: Keep employees engaged and informed from the beginning about the why and the how of your digital and business strategy. If employees don't understand the plan and why it's important, they won't support it. We can see – amid media reports around AI and the notion that robots are taking jobs – how quickly fear, uncertainty, and doubt can emerge. If AI or other advanced technologies are part of your plan, develop and communicate a roadmap, and articulate that successful transformations require a balance between the human and the machine. According to Genpact's AI 360 study, 40% of respondents said they would be comfortable working with robots; the more employees are aware, the more comfortable they will be as digital transformation unfolds.
Know your employees: We regularly help our clients conduct research and create customer personas, but we often create employee personas too. This is a critical step in delivering digital experiences. Qualitative and quantitative research empowers organizations to personalize experiences. Interviewing and observing employees at work, and combining insights with data and analytics, enables organizations to identify employees' needs across their user journeys. It can also guide your communication strategy by identifying the channel, tone of voice, and key messages that are the most likely to resonate with employees.
Enlist the C-suite: C-suite executives need to lead the charge in innovating the employee experience. Leaders must understand the future state, and be advocates across the organization in terms of how to get there. One of Genpact's financial services clients is embarking on a multi-year employee experience transformation – and the co-CEOs are driving the vision throughout the organization. They are effectively communicating and involving the workforce – tapping into great customer-centric ideas from the front line, as well as behind the scenes. Another client recognized that their contact center employees had the most exposure to customers' issues and concerns, so they created a platform to share the insights and suggestions of those employees.
Build skills and behaviors for the future: Reimagine traditional learning and development programs to provide self-guided learning opportunities for employees. Because the most in-demand future skills will be adaptable soft skills, consider the learning and development function as more than content creation. At Genpact, an innovative learning program called Genome uses AI to collate, curate, and share knowledge that is tailored to each employee. Genome helps us fill skill gaps within current roles and prepare employees for the future. Whether it's learning how to work with machines, gaining an understanding of agile methodologies and Lean Six Sigma, or developing a strong executive presence, the development opportunities make employees feel valued, and drive better business outcomes.
Modernize digital technologies: You can't create a digital future for your customers if employees are still struggling with outdated technology, fragmentation, and cumbersome processes. We help clients understand where employees are experiencing friction, and identify the most effective way to tackle their issues. Modernizing existing portals and platforms can dramatically enhance the employee experience – when backed by insights from process mining and Digital Twin creation – which improves the customer experience, too.
Embrace new ways of working: Today's leaders aren't afraid to experiment, fail fast, and embed learnings into a continuous cycle of innovation and improvement. Agile methodologies and ongoing sprints can orient teams in new ways, foster collaboration, and drive decisions based on insights from those employees who are closest to the customer. If you haven't tried this new way of working yet, there's no time like the present.
Ultimately, the employee experience should be at the heart of your digital transformation strategy. When it becomes an organizational priority, employees will be more satisfied, productive, and can help enhance the customer experience to drive profitability.