Gone are the days when the accounts payable (AP) function was merely transactional. As CFOs transform from fiscal protectors to champions of innovation and growth, AP has transformed into a driver of growth and profit, with a clear strategic vision and mission of its own.
Challenge
Limited visibility into AP process health and performance
Adding quantifiable value beyond cost reduction hasn't been easy for AP teams. As they respond to pressing demands arising from shifts in the business environment owing to mergers and acquisitions, the introduction of new technologies, regulatory compliance updates, and supply chain volatility, AP processes can become fragmented and non-standardized. As a result, they become less connected with upstream procurement processes.
The four critical dimensions of the function – process, business efficiency, compliance, and stakeholder experiences – often do not get the share of attention they each deserve. The result? Teams lack visibility into process health issues and are unable to assess performance and take timely corrective action. This can lead to longer process cycles, higher operating costs, poor user experience, and late payments that alienate reliable suppliers. The AP team misses capturing discounts and is unable to support the company in managing working capital better.
Solution
A holistic, cloud-based framework that arms finance teams with a 360-degree view of AP process health and transformation opportunities
Genpact's Perfect Payable Index is a framework that is ready to transform your AP function with a set of interrelated business metrics benchmarked against industry leaders. It connects to other process assessment frameworks, ERP, and other technologies to give your team complete visibility into every aspect of the AP function, driving accountability.
Guided by Genpact's finance expertise and built on Celonis' market-leading process mining technology, Genpact Perfect Payable Index measures the total value AP can deliver by analyzing four dimensions – process excellence, business efficiency, compliance procedures, and stakeholder experience. Using over 120 variables and 4,000 combinations, it evaluates the impact of various drivers that affect your AP process. This helps in assessing outcomes from potential transformational levers and enables teams to prioritize them in an informed and objective manner. Also, the built-in Celonis connectors help deploy the application for this framework quickly.
With the Perfect Payable Index, you get an unobstructed view of how quickly and accurately your team processes invoices, takes advantage of discounts, and controls the cost of invoicing. For example, it reveals exactly how upstream issues such as pay order penetration, pay order compliance, and standard payment terms impact downstream changes in processing and exception resolution. And it measures how well the group is complying with policies.
Here's how the Perfect Payable Index plays out in practice:
Overall Perfect Payable Index (figure 1): First, it connects to your ERP to give you a snapshot of the current state of your AP process and a sense of the overall maturity of the function. It analyzes how the four critical dimensions are trending and how they line up against best-in-class AP operations so you can focus on weak spots and pain points in order to fix them. Then, the deep dive begins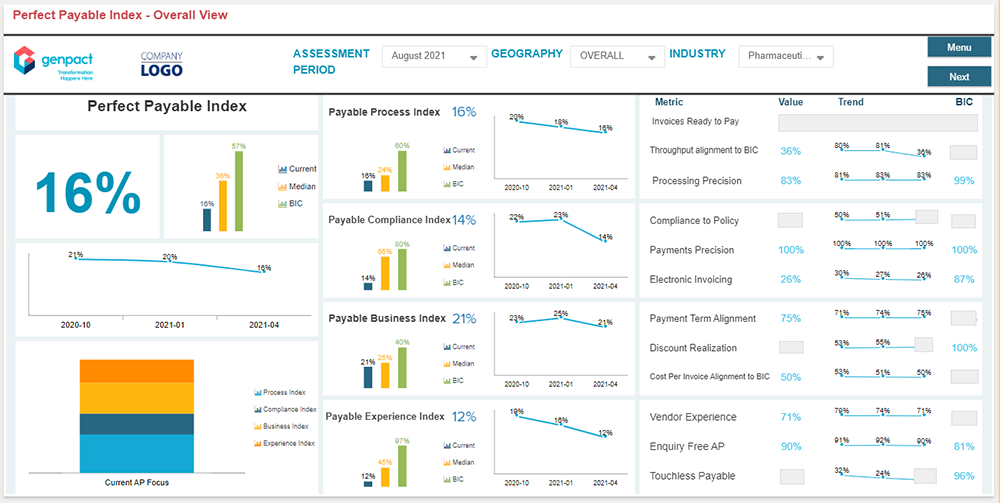 Payable Process Index (figure 2): This index helps you assess the accuracy and timeliness of various AP activities, pointing to improvements you can make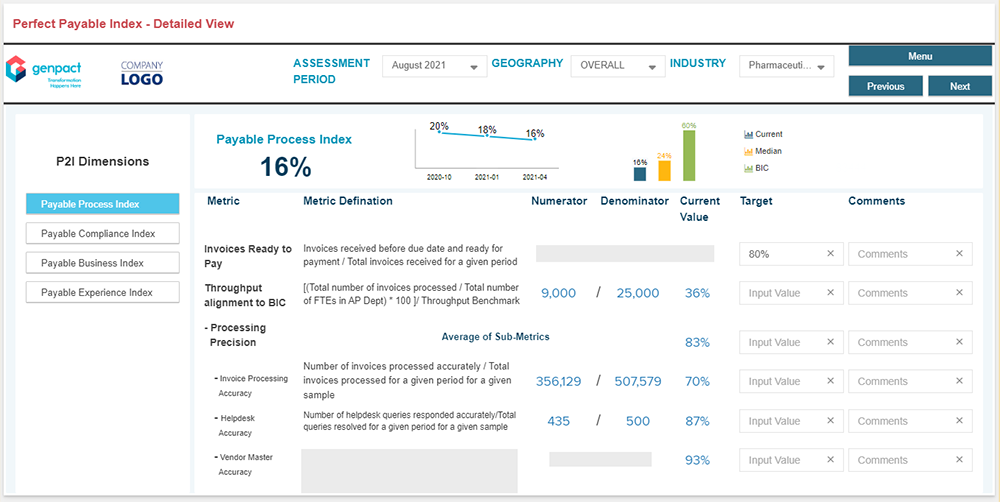 Payable Business Index: This index assesses invoice processing operating costs to help you keep expenses down. It also shows you how to find cash – in vendor discounts, for example – to improve cash flow
Payable Compliance Index: This feature measures the robustness of controls and compliance and helps you assess where to further strengthen them
Payable Experience Index: This index assesses stakeholder and user experiences, revealing ways to improve these
Identifying drivers impacting AP: What-if analysis (figure 3): This functionality helps you identify which drivers are impacting your AP function the most and how sensitive these drivers are. It helps in identifying focus areas by looking at interdependent variables that influence overall AP process health. This enables companies to assess the potential impact various transformation initiatives can deliver and guides them in evaluating the best implementation sequence that aligns with finance's strategic objectives.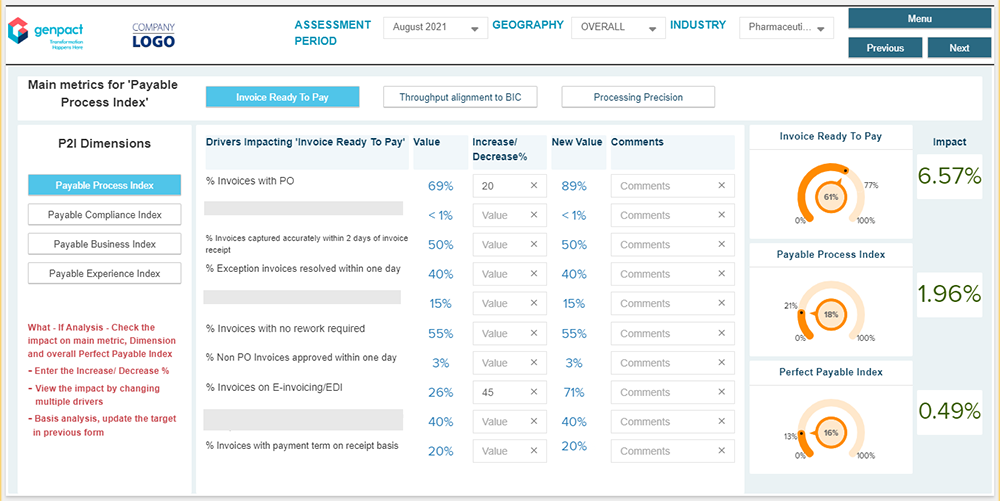 Recommended solutions to improve AP performance (figure 4): This feature recommends digital and process transformation opportunities to improve your AP function's performance. Users can monitor performance improvements in near-real time and compare them against the estimated impact of specific transformation initiatives.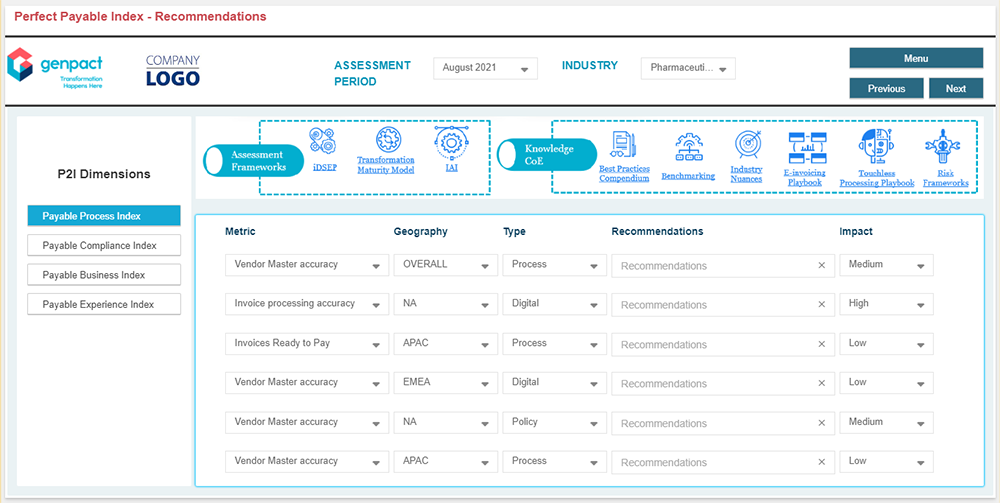 Impact
Optimized and connected AP processes that deliver strategic business value
Genpact's Perfect Payable Index delivers on its promises. It drives holistic accountability within the AP function and enhances user and stakeholder experiences, while its specialized built-in data analytics capability uncovers new opportunities for capturing supplier discounts, improving cash flow, and rationalizing supplier payment terms. It also indicates ways to reduce the overall cost of AP process ownership and prevent cash leakage brought on by compliance lapses. Clients also take advantage of its benchmarking feature to assess how their AP functions compare against best-in-class processes in the industry.
Why Genpact
With over two decades of finance transformation experience and deep digital technology capabilities, Genpact has a well-earned reputation as a market leader in this field. And we have joined hands with the best-in-class process mining technology company Celonis to help you catapult your AP function to the next level.
Take a peek at our Perfect Payable Index app at the Celonis Execution Management System store to learn more.