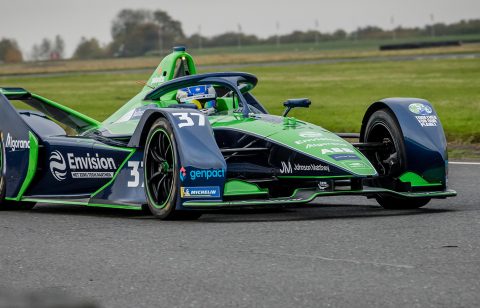 Simon Cropper, data scientist and assistant vice president, data analytics and research, Genpact, lets his inner Buddha shine as he talks about his fascination with car racing and the work he's doing with Envision Racing.
Motorsport enthusiast at Formula E
"My role in the partnership needs me to wear the hats of a co-project lead and a data scientist," says Simon, a big motorsport fan. He's not just excited about the work he does – "It's a dream come true!" he tells me.
Simon and the rest of the team of data scientists are working to enhance how the Envision Racing team determines the number of laps in a race with our Lap Estimate Optimizer (LEO). LEO houses a variety of algorithms that help Envision Racing assess all the elements that influence a race, sharpen its predictions, and make the right energy-management choices. Unlike many other forms of racing, the cars in Formula E use battery. This is what makes energy consumption critical during a race.
"Attack Mode" on
Attack Mode in Formula E racing temporarily boosts power levels, giving drivers an edge over their opponents. To engage Attack Mode, drivers must pass through a defined activation zone placed off the racing line. Simon describes this by comparing it to the speed boost strip in Super Mario Kart.
The decision about whether or not to go through the activation zone is influenced by multiple factors, including the track condition and number of laps remaining. Genpact's algorithms consider all these factors and present the team with recommendations on when and how to take it.
A data scientist on the track
What is the most exciting part of Simon's job? "The fact that I am a part of a car-racing team. The adrenaline rush of watching your team win is unmatchable. Knowing that your work helps the team get on the podium makes you feel as if you're on the track yourself. It's quite mind-blowing," he says.

The most exciting project. Yet.
After 25 years spent working in the consulting world with leading global companies, as well as startups and boutique consulting firms, Simon considers this his most exciting project to date. "There are essentially two key elements to use data and analytics to grow – domain expertise and digital knowledge. Most companies are good at one thing but not the other. Genpact brings them together and excels at both," he says.
While Simon and the Genpact team continue to work on creating winning solutions and strategies for Envision Racing, Simon shares his own secret to success. "At the end of the day, winning is all about being happy."
Learn more about our work with Envision Racing and read our #TheRealChampions stories, (In the driver's seat, The yin and yang of being a data scientist, and A troubleshooter on the track), brought to life by our Envision Racing trackside reporters.

Blog