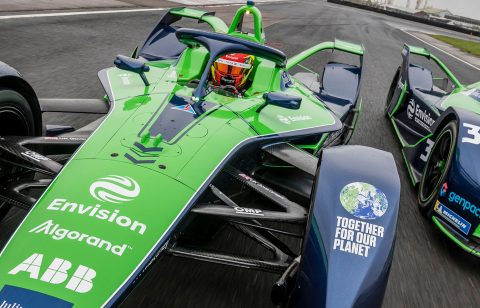 Dr. Maria Singson, chief science officer (Digital, Analytics and Research) at Genpact, tells us what drives her personally, what she's driving within the Genpact and Envision Racing partnership, and a lot more.
Ready? Get set, go!
A chemistry major who wanted to make soaps, Maria took one class in cognitive science, and that changed her career path. Today, she's using AI to analyze data and formulate strategies that help Envision Racing win in the Formula E championship, the world's first all-electric, single seater, international racing series. "The coolest part about my job is that I get to problem-solve with customers – whether they're manufacturing or banking giants or a motorsport team – to help them win their own races," she says.
AI + racing = a winning formula
Combining Genpact's technical expertise with Envision Racing's knowledge and experience is a groundbreaking concept. Maria and Genpact's data scientists have been analyzing data and developing algorithms to optimize how teams' drivers perform on the racing track. They are estimating the number of laps in each race and identifying rival drivers' strengths and weaknesses to give Envision Racing greater competitive advantage.
AI facilitates problem-solving in this one-of-a-kind partnership. "This is dynamic work where we have to deliver insights fast, no matter how large the sea of data," says Maria.
What we do
As part of Genpact's work with Envision Racing, we're improving how the team determines the number of laps in a race with the Lap Estimate Optimizer (LEO). LEO holds a variety of algorithms and helps Envision Racing assess all the elements that influence a race, enhance its predictions, and make the right energy-management choices.

In addition, the team has uncovered an alternative source of data to help it better understand competitors' driving habits. These profiles allow Envision Racing drivers to make more informed decisions at every stage of the race.
"All players in all sports have certain strengths," says Maria. "Take tennis champion Roger Federer as an example. His backhand is among the best on tour, and that's why most players try to stay on his forehand side. In the same way, Formula E drivers play to their strengths and others' weaknesses. Driver profiling makes strategizing easier."

Maria describes her work with the Envision Racing team as "daring," as the team uses AI and advanced analytics to help the team secure more winning finishes. We're excited to see what bold moves Envision Racing and Genpact make as the fifth Formula E season draws to a close.

Learn more about our work with Envision Racing and read our #TheRealChampions stories, (Living the dream, The yin and yang of being a data scientist, and A troubleshooter on the track), brought to life by our Envision Racing trackside reporters.
Blog