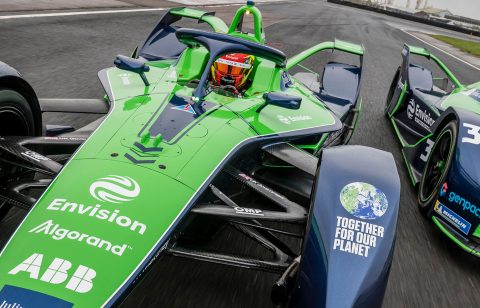 Dr. Vikas Behrani, AVP, data science and insights at Genpact, was voted one of the top 10 data scientists in India by Analytics India Magazine in 2018. We caught up to discuss AI, his role in the Genpact-Envision Racing partnership, and the excitement it brings with it.
Data duty
Numbers have always fascinated (or shall I say frustrated) Vikas. During his Ph.D. days, the amount of time it took to manually collect the data he needed for his project would exasperate him. With no solution in sight, he decided to invent a completely automated solution to save time. This was his first step toward building a career in data, automation, and AI.
Forecasting facts and figures
Vikas and his team use the predictive power of the Lap Estimate Optimizer (LEO) we have built for Envision Racing to make accurate and energy-saving decisions. "The drivers have to finish the race in the stipulated time of 45 minutes plus one lap. Since a lot of information is required to estimate the optimum number of laps, LEO helps analyze data. It's all in the numbers and the data!"
The team of teams
An exciting part of Vikas' job is the endless learning curve. He is always excited to learn from different subject matter experts. He loves the fact that his team members, who are from different disciplines, always have a solution up their sleeves. "We're statisticians, machine learning experts, and program experts. If I have a problem in something that I don't specialize in, all I must do is ask, and there's an answer," he tells me.
He leaves me with an inspiring parting shot: "The world is your oyster. It's up to you to find the pearls." Based on the opportunities Vikas and the team have uncovered on the Formula E race track, they've certainly found their fair share.
Learn more about our work with Envision Racing and read our #TheRealChampions stories, (In the driver's seat, Living the dream, The yin and yang of being a data scientist, and A troubleshooter on the track), brought to life by our Envision Racing trackside reporters.