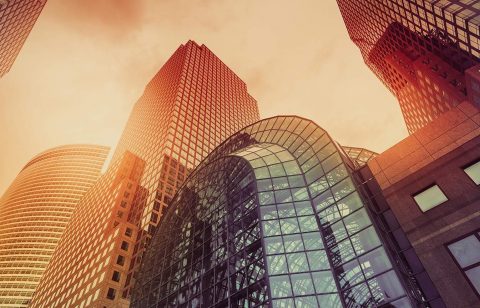 Where are we going as a financial services industry? What's going to happen to banks? What are the implications for fintechs? And techfins? How will the market evolve? These are the questions everyone's asking, but few have answers. Genpact's recent study, Banking in the Age of Instinct, reveals three trends that will impact us all and explores how banks will need to adapt to thrive in the future.
Redefining banking
By 2025, three macrotrends will define the world at large and will have a major impact on banking:
Optimized reality
As individuals and companies demand better and more bespoke products and services, financial institutions will need to tap into digital technologies and huge volumes of data to anticipate a customer's mood or behavior. Customers will expect heightened levels of convenience and service, and require a bank that can predict and fulfill their needs, delivering products and services on demand and with zero friction, just as Google, Amazon, Facebook, and Apple do. This is a world in which optimized reality is the norm.
But to get there, banks need to shift their focus from being product-led and siloed to experiential and agile. Can they become user-experience ninjas and set new standards for service? Or will creaking infrastructure and reluctance to change continue to hold them back?
Ethical impact
Society demands that institutions lead with morality, and help people and communities to adapt their attitudes and behaviors for a brighter tomorrow. So future customers will seek banks with a social purpose that spreads beyond the corporate social responsibility department into every facet of their organizations, as well as the businesses and lives of their customers.
For financial institutions, this will lead to a shift in focus from being authoritative and functional to supportive and emotional. Banks will need to focus on, and provide solutions for, groups of individuals, such as vulnerable populations, the unbanked, and communities at large.
Whole-system planning
Consider your organization's impact on the world. What is your purpose? What do you aspire to do beyond managing transactions and selling products?
Whole-system planning is a trend driven by global demand for systems and practices that provide protection from future threats through long-term, holistic thinking. Financial institutions will need to work on being less complex and more open and sustainable.
One of the reasons we believe this is important is that your ability to attract talent is crucial to your bank's long-term success. And we know that the top talent want to understand not only how you operate, how you make money, and how they will make money, but also your big picture and your impact on the world.
From financial services to financial betterment
As banks respond to changing expectations, we'll see a new banking model that's all about bettering customers emerge. It'll focus on improving customers' financial well-being rather than just maximizing your net interest income. Financial institutions will be reframed as enablers of financial betterment.
Not just surviving but thriving
The banks that lead in the future will be those that can act instinctively. With artificial intelligence as their neural wiring, they will connect people, processes, and business knowledge to adapt and make accurate and proactive decisions in real time for the benefit of customers. Banks that evolve into instinctive enterprises will move markets, reinvent business models, and amplify human potential.
Join me as we explore these three trends (as well as how banks must transform) in future blogs, or download the report.
Blog